PRIVATE DINING WITH A VIEW IN NASHVILLE
PRIVATE DINING
---
---
Choose from three intimately private dining rooms: Rare, Rye, and Reserve.
Each room, enveloped by stunning skyline views, offers a unique experience flanked by floor-to-ceiling windows that highlight one of the restaurant's most breathtaking and inspiring accessories.
The Rare and Rye rooms are located towards the rear of the restaurant, opposite of the main dining room. Both Rare and Rye come equipped with flat screen HD TVs, ideal for honoring momentous occasions with a slideshow or sharing vital information with colleagues over a client dinner. The Reserve semi-private dining room is located within the main dining room and becomes detached by way of sliding wooden doors with opaque frosted glass.
Rye
Capacity: 12
Rare
Capacity: 18
Reserve
Capacity: 24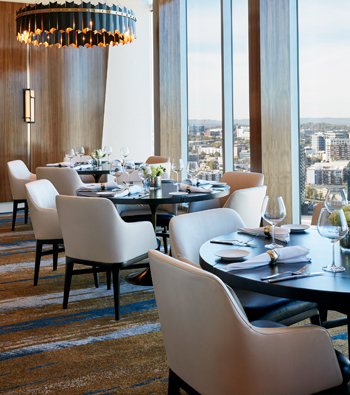 MENUS
Bourbon Steak Private Dining Management Team
PRIVATE DINING FAQ
Do you require a food and beverage minimum?
There is a Food & Beverage Minimum required to reserve these spaces as exclusively yours, not including service charge and taxes. We do not charge a room rental and also offer Valet Parking at the hotel complimentary, for up to 6 hours, for our Bourbon Steak dinners. The Food & Beverage Minimums vary based on season, time and day of week.
Can we order off the main dining room menu?
Groups of 12 guests or less are able to order from the main restaurant menu. Groups of 13 or more are required to pre-select a menu from our Private Dining Menus. Rest assured though your guests will still have the opportunity to select their preference for each course from the limited menu. These guidelines ensure a quality experience for our guests that is flawless and representative of a Chef Michael Mina experience.
Do you offer separate checks?
No, we do not offer separate checks. One check will be presented at the end of the dinner, and you will need to provide (1) credit card to be charged on-site.
Do you charge a deposit?
No but a credit card is due with signed agreement and will be used for any cancellation fees.
How long do we have the room?
2.5 hours